Hi everybody! I'm still on the Autumnal vibe and today I've used thenFalling Leaves Stamp and Stencil Sets and they are beautiful! Using the stencil with 
the stamped leaves takes all the stress out of coloring in just a couple minutes.
Instructions: 
Cut a mini slimline card base 6.25" x 3.25"
Stamp your sentiments from the set bottom right. 
Either stamp out your design right over the card base or trim a piece of card a quarter of an inch smaller than your base and sentiment and stamp on that. (originally I had the one layer but spilled ink on the bottom of my design so cut it off and mounted it on the card base. 
Use Autumnal inks to colorblend your panel. 
Stamp out the leaves a second time and ink them up using the stencil. 
Add Moonstone Glimmer Paste over your leaves and allow to dry completely. 
Cut leaves and adhere over your original stamp design. 
Add lots of splatter to finish. 
I love Autumn and I can't get enough of the rich, beautiful colors.
I live in the countryside in Cornwall and it's so beautiful of late. Thanks for visiting the blog today and hope you like my project. I'll see you next week! If you'd like to buy the Pretty Pink Posh items you can get them from the shop here: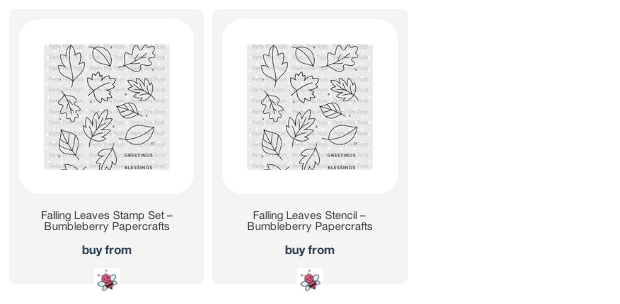 Lots of love,
Kittenmoose